De Witte Kamer (2019) - sound design

Sound design for the theatre play De Witte Kamer by Ada Ozdogan. A girl gets strangled in an absurd, Kafka-esque trial on institutionalised systems of racial biases and white innocence.


---
De Witte Kamer was produced by Theater Sonnevanck and Toneelgroep Oostpool. The piece (12+ and older) was performed in a trailer truck that drove by schoolyards around the country.

Direction Ada Ozdogan
With Sophie Höppener, Liza Macedo Dos Santos en Denzel Goudmijn
Sound design Marijn Brussaard
Photo's Sanne Peper


---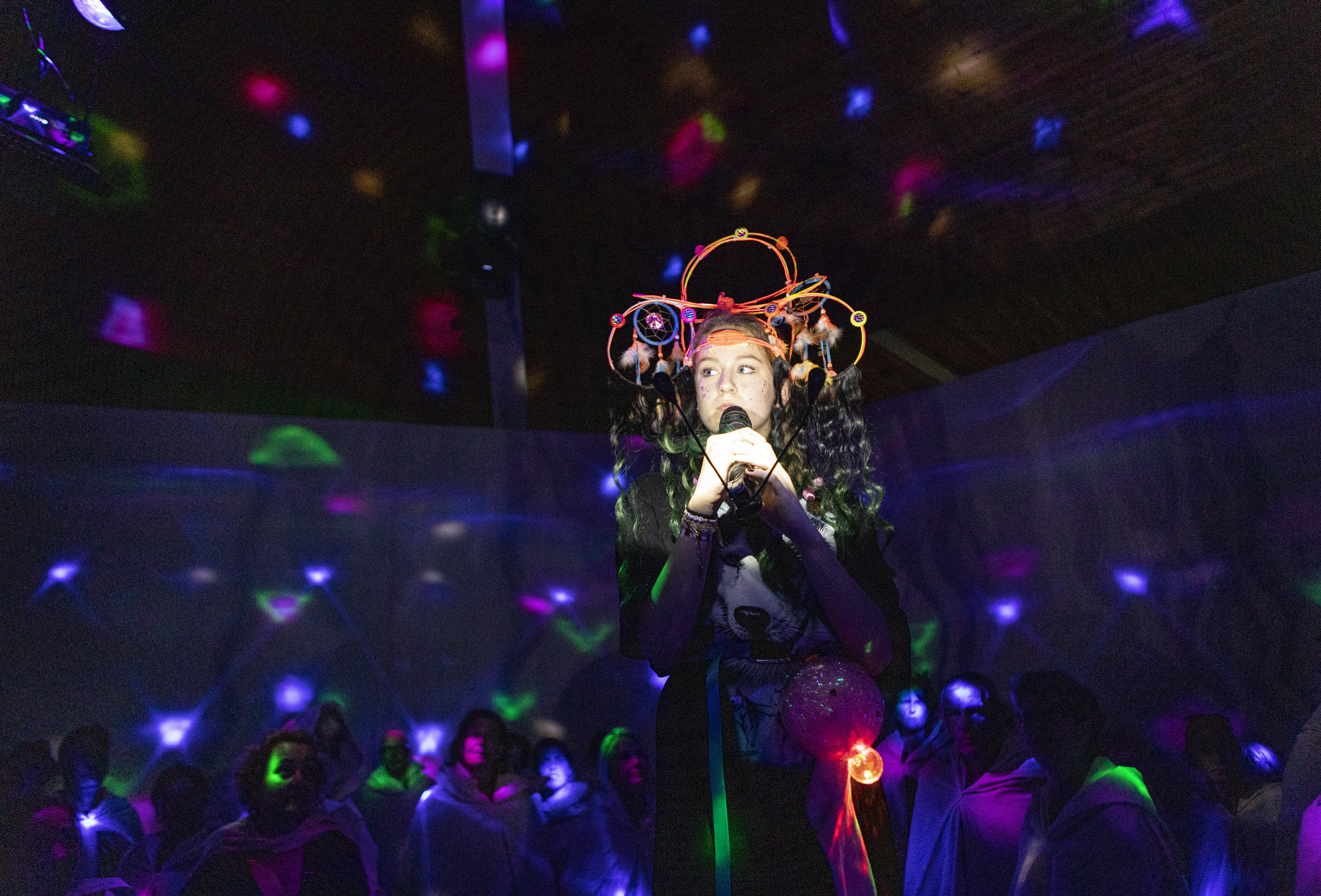 Party Dialogues (2019) - sound design

Sound design for Party Dialogues by Liesbet Swings. The piece is half rave and half church service where young meets old. The audience accidentally take on an important role, joining the youngsters in hedonistic rituals, all led by the the driving sound and lyrics of 90s eurodance hits.
---
Party Dialogues was produced by Theater Artemis and shown on Oerol festival and Boulevard 2019.

Creator Liesbet Swings
Final direction Jetse Batelaan
Sound design Marijn Brussaard
Costumes Johanna Trudzinski
Photo's Moon Saris

Press
-'For a moment we relive why merging into a partying mass gives you that energy.' - De Volkskrant

-'At the end, you leave the dance floor filled with nostalgic confusion.' - Trouw




---
Dubbelgangers (2019) - sound design

Sound design for Dubbelgangers by director Ada Ozdogan and writer Eva Jansen Manenschijn.

Dubbelgangers (translated as Doppelgangers) is a melodramatic theatre piece in which three characters are stuck on a beach house veranda in a film noir universe. The actors relive the same moments over and over again, until one of them steps out. It's a critique on the myth that anything should be feasible and constructed, even when it comes to your own identity. Driven by a shared affinity with the absurd, the makers question what the promise of the 'makeable' human has really brought us.


---
Dubbelgangers was produced by Theater Rast and premiered at Podium Mozaiek in Amsterdam in 2019.

Direction, concept Ada Ozdogan
Text, concept Eva Jansen Maneschijn
With Judith van den Berg, David van Uuden, Nadia Babke
Sound design Marijn Brussaard
Photo's Sanja Marusic



Press:
-'Ada Ozdogan sets up an endlessly fascinating view on the male gaze, identity, freedom, romance and love. - Theaterkrant


---
The Gentle Woman (2019) - sound design

Sound design for The Gentle Woman by Davy Pieters and Mugmetdegoudentand. The piece revolves around a woman that decides to remove herself online, a digital suicide. The Gentle Woman

is a visual and audiotory trip through the limbo between technology and humanity, on- and offline, and ultimately between life and death.

The sound mostly consisted of samples found on Youtube, like ASMR, guided meditations and commercials.


---
The Gentle Woman was produced by mugmetdegoudentand and premiered at Boulevard festival 2018.

Direction Davy Pieters
With Lineke Rijxman, Rosa van Leeuwen
Decor, video Lena Newton, Grisha Runge
Sound design Marijn Brussaard
Photo's Sanne Peper


Press
-'Fascinating and urgent.' - **** Theaterkrant

-'Poetic quest.' - **** Trouw

-'A fascinating piece'. - de Volkskrant

---